Residential Window Cleaning: How Often Do I Need It?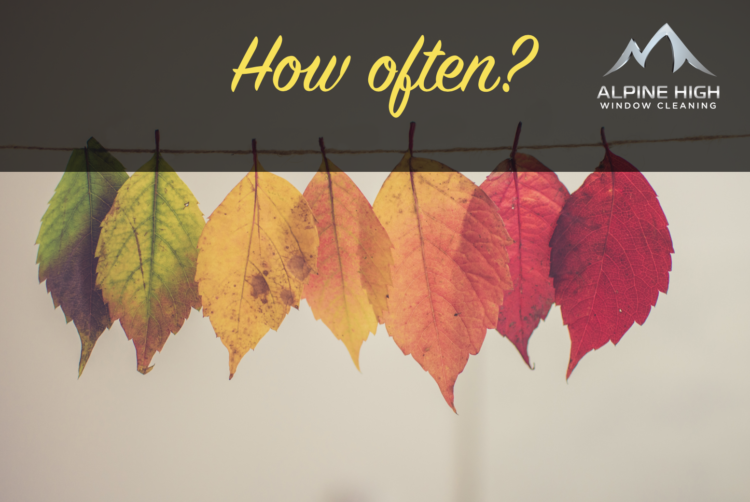 Keeping your home's windows clean is important for many reasons. Naturally, clean windows will boost your home's appearance, and provide you with more impressive views of your surroundings. On top of that, hiring professionals to regularly clean your windows guards against damage from contaminants and sustains your home's value.
We at Alpine High Window Cleaning can help. Offering residential window cleaning services to homeowners in Wenatchee, WA and the surrounding areas, we'll make sure your windows look pristine (and remain in good condition) for years.
That said, you may wonder how often you should schedule residential window cleaning. If so, consider the following points:
How Often Do I Need to Schedule Residential Window Cleaning?
Generally, most homeowners should hire a residential window cleaning team to clean their windows at least once a year, although scheduling this service twice a year is more advisable. However, you need to consider a range of factors when determining how often you should have your windows cleaned. They include:
Location
Many different types of debris and contaminants can accumulate on a home's windows if they aren't cleaned regularly. The degree to which they accumulate often depends on the location of the house.
For instance, if a house is near a relatively large body of water, minerals from the water and similar debris will build up on its windows. Thus, homeowners in such locations should typically schedule residential window cleaning more often than homeowners who live further away from bodies of water.
That doesn't necessarily mean waterfront houses are the only type of homes that require more frequent window cleaning than others. For instance, if you live in a fairly urban area, your windows are more likely to get dirty fast than the windows of someone who lives in a rural area. It's important to keep this in mind as well when determining how often to schedule residential window cleaning service.
Seasonal Factors
If you live here, you don't need to be told that the Wenatchee, WA area is a beautiful part of the country. That said, as with any city located this far north, wintry weather conditions do tend to be fairly common in our area during the colder months of the year.
This is another point you need to keep in mind when asking yourself how often you should schedule residential window cleaning work. When snow and ice accumulate on your roof, they can trap a lot of dirt and debris. When they melt, they often transfer that debris to your windows. That means homeowners who live in areas affected by winter weather typically need to have their windows cleaned more often than those who live in warmer regions.
Goals
Some homeowners find that scheduling residential window cleaning service once or twice a year is sufficient to meet their needs and goals. However, if you truly want your windows to look as impressive as possible all year long, you're better off having them cleaned three to four times a year.
There are many reasons you might feel the urge to have your windows cleaned more often. Perhaps you want your home to be the most attractive in the neighborhood. Maybe, like many homeowners, you've noticed that clean windows have a positive effect on your mood because they let in more natural light. Or, you could be planning on selling your home in the near future, and therefore want it to look its best to any potential buyers.
Wenatchee's Most Trusted Window Cleaning Team
Regardless, when you need residential window cleaning service in the Wenatchee, WA area, you should get in touch with Alpine High Window Cleaning. We offer expert service at an affordable price. To learn more, contact us online.