What will your gutter cleaning service include?
Your total residential gutter cleaning package from
Alpine High will include the following individual services: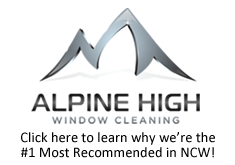 Hand removal of all visible debris
Testing of all downspouts for system functionality
Photographic documentation
Removal of all blockages (Premium Package only)
Flushing of downspouts (Platinum Package only)
Please see pricing chart below for full details

"Alpine High Window Cleaning does a superb job and most importantly they are always on time and efficient."
Mellinda Gilliver, Wenatchee, WA
Client since 2010, Found us on Google
"I hadn't cleaned my gutters since I bought my house 7 years ago, and I have many large trees surrounding my house. My gutters were overflowing with gunk. I called Alpine High and they came out the following day, completed the job in no time for less that what I was quoted. Now I don't have birds digging in my gutters, dropping mushy, black debris around my house. I would recommend them to anyone."
Audra Becker, Wenatchee, WA
Client since 2009, Referred by a friend
How much will your gutter cleaning service cost?
For a ballpark price, please consult the chart below to get a basic idea of what your Alpine High Gutter Cleaning service will approximately cost. We recommend giving us a call at (509) 664-0614 to request your FREE customized gutter cleaning estimate. There is also a form provided at the bottom of this page, if you would rather complete a form to submit an email request.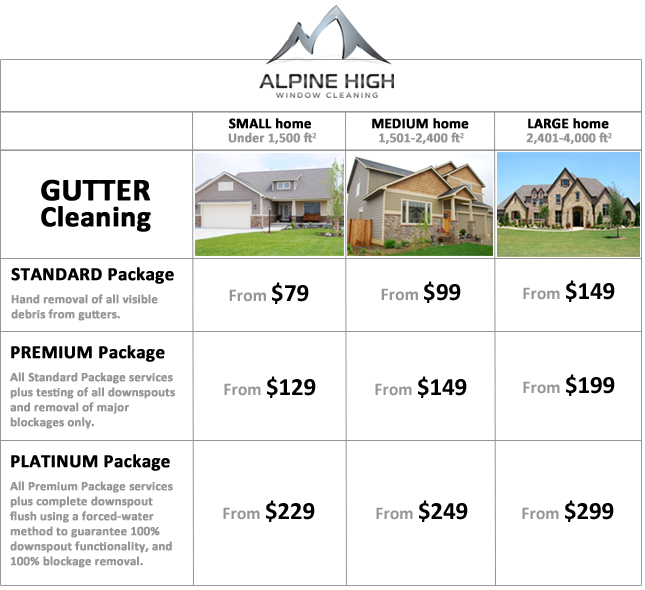 "I would recommend your company to friends and co-workers and neighbors. I also think your pricing is reasonable and that is why I called your company to begin with. Then once you did my windows I was pleased and that is why I continued with your business."
Kathy Secord, Chelan, WA
Client since 2005, Referred by her Builder
As always, at anytime, you may also contact us by phone at (509) 664-0614 for a free estimate. Please ask for Adrian. If you prefer, you can also text your estimate request to