Lake Chelan's #1 Window Cleaning
& Pressure Washing Team
Located three hours northeast from Seattle, this out-of-the-way region has been known to city-dwellers for decades as a summer getaway spot, but in recent years the area known as Lake Chelan has become a trek-worthy destination for wine connoisseurs and nature aficionados alike. It has become a destination where families come together to enjoy a slower pace of life.
At Alpine High Window Cleaning it is our pleasure and privilege to help our friends and neighbors in the Lake Chelan area maintain the curb appeal and quality of their home by offering the areas most comprehensive window cleaning and pressure washing services. Our services are always customized to your home, ensuring the best result possible.
Don't Just Take Our Word For It -
Meet The Dunn's
Put Our Top Rated Team To Work For You!
Why not get a free, no-obligation estimate today?
We Offer The Following Services In Lake Chelan
Lake Chelan is a beautiful area and we know that you want your property to reflect the ambiance and cleanliness that surrounds you. Our residential services are designed to be efficient, effective, and to improve the quality of your curb appeal:
Click Each Service To Learn More
Put Our Top Rated Team To Work For You!
Why not get a free, no-obligation estimate today?
We offer our North Central Washington customers an unbeatable "Guarantee", that if not completely happy your total service experience you won't owe a penny!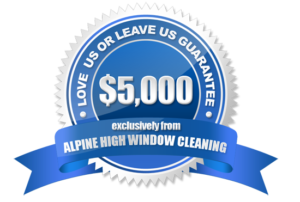 We are very confident that you will be thrilled with our window cleaning services that we are offering residential and commercial customers the same "risk free" guarantee. In an effort to do our part for the environment, Alpine High Window Cleaning, Inc. offers the most environmentally safe best window cleaning services available today.
Our customers also have the option of paperless estimates or quotes and invoices. In most cases, we can also give you a price without having to use fuel and personally visit the job site. If you are located in the Wenatchee, Orondo, Entiat, Chelan, Manson, Leavenworth WA areas give us a call 509-664-0614 or contact us.