Window Cleaning – This Spring, Enjoy The Scenery More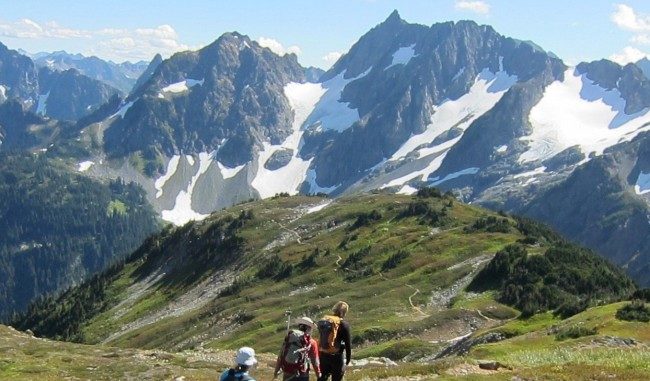 From the Columbia River to the Mission and Dragon Tail Peaks of the surrounding Cascade Mountain Range, our homes here in Wenatchee, WA are surrounded by some of the best vistas that nature has to offer.  But when your windows are dirty, the view is a lot less magnificent. Here in the Pacific Northwest the weather can really do a number on the appearance and clarity of your window panes such as thunderstorms that throw leaves, dirt and mud onto your windows. Meanwhile, snow, dust, and pollen can leave behind a film of dirt can make your once beautiful view of the outside world a bit foggy. When that happens, window cleaning service from Alpine High Window Cleaning is just what your windows need to cut through the grime and restore the shine!
Why Have Your Windows Professionally Cleaned?
The clarity and appearance of your windows face a double-sided threat. On the outside rain, snow, and even the wildlife can combine to leave dirt all over your windows. On the inside everything from dust to tiny handprints (cute for pictures, but probably not as desirable as long-term decorations) make it a challenge to see clearly thru your panes.
Once that mixture has been baking in the sun for a while it can become extremely difficult (and time consuming) to remove using over-the-counter cleaners. As window cleaning experts the team at Alpine High Window Cleaning uses specially formulated, professional grade soap to cut through years of baked on dirt quickly, giving your windows a long lasting shine that dries to a streak-free finish!
More Than Just Appearances
But besides the aesthetic benefits that come from having your windows professionally cleaned there are also very practical reasons as well. Like most other components to your home when you take care of your windows they simply last longer! Glass in particular is prone to a short lifespan. Without the comprehensive deep clean that you get from professional window cleaning the built-up dirt and grime becomes a contaminant that reduces the lifespan of your window panes and even the window frame itself.  A regular routine of professional window cleaning can help you avoid costly repairs and even window replacement for a fraction of the cost. 
Wenatchee's #1 Most Recommended Window Cleaning Team
Alpine High Window Cleaning has been privileged to deliver professional window cleaning services to residential and commercial customers in and around Wenatchee, WA since 2001. Our friendly, experienced technicians are experts at efficiently removing dirt and grime from your windows, no matter how long it has been since your last window cleaning! With Alpine High Window Cleaning you can rest assured that your windows will be meticulously cleaned, helping them to last as long as they possible can while shining like new! So while spring is in full bloom, now is a great time to restore your view of our beautiful area with window cleaning service from Alpine High Window Cleaning!