Unless it's in writing it doesn't exist?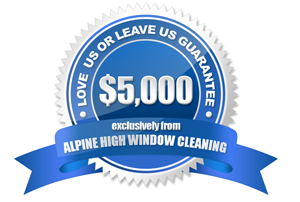 You've heard the saying: "Unless it's in writing it doesn't exist"? Well consider this guarantee official.
What else makes Alpine High Window Cleaning very different from every other local window cleaning contractor here in North Central Washington?
Only Alpine High offers you an industry-leading $5000 "Love Us Or Leave Us" Money-Back Guarantee.
1. Complete our online estimate form to see how much your project will cost.
2. Schedule your project by calling our booking line at (509) 664-0614.
3. Meet the friendly Alpine High Crew.
4. Watch as your home (or business) transforms before your eyes as your windows are restored to their original beauty and clarity.
5. Inspect the work you received as carefully as you wish.
If you are not so completely satisfied with the workmanship you received and your entire service experience with Alpine High Window Cleaning, that you would feel absolutely comfortable recommending us to your friends and neighbors, you won't pay a dime of your invoice. Right up to $5000.
That's what we consider standing behind our word, and putting our money where our mouth is. And you can only get it from Alpine High Window Cleaning.
Why not obtain your free online estimate right now?