What Will Your Window Cleaning Service Include?
Your total commercial window cleaning package from Alpine High will leave your view dazzling! Is Alpine High a good fit for your commercial needs? Consider...
"We have a lot of high windows, Alpine High Window Cleaning was hired because we have high to reach to windows, (their equipment can reach up to 60 feet) we've used other companies but but they didn't have the set up needed. We found them to have integrity and a wonderful crew and plan to continue using them"
Duane Whitley
Riverwalk Condo Manager
Wenatchee, WA
Customer Since 2012
"I've been working with Alpine for years now and have been super satisfied with their work, always done quickly and thoroughly"
Josh Tarr
Owner of American Shoe Shop in Wenatchee
Put Our Top Rated Team To Work For You!
Why not get a free, no-obligation estimate today?
Check Out Our Window Cleaning Team In Action!
Fill In The Following Form To Get Your Quote Started!
If you need help give us a call (509) 664-0614!
We offer our North Central Washington customers an unbeatable "Guarantee", that if not completely happy your total service experience you won't owe a penny!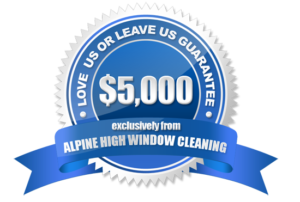 We are very confident that you will be thrilled with our window cleaning services that we are offering residential and commercial customers the same "risk free" guarantee. In an effort to do our part for the environment, Alpine High Window Cleaning, Inc. offers the most environmentally safe best window cleaning services available today.
Our customers also have the option of paperless estimates or quotes and invoices. In most cases, we can also give you a price without having to use fuel and personally visit the job site. If you are located in the Wenatchee, Orondo, Entiat, Chelan, Manson, Leavenworth WA areas give us a call 509-664-0614 or contact us.